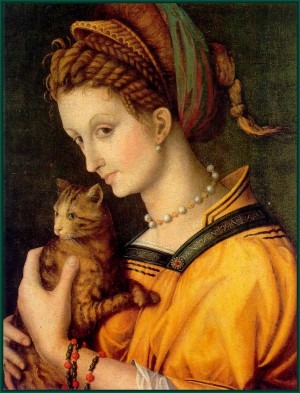 Les Chats
Les amoureux fervents et les savants austères
Aiment également, dans leur mûre saison,
Les chats puissants et doux, orgueil de la maison,
Qui comme eux sont frileux et comme eux sédentaires.
Amis de la science et de la volupté
Ils cherchent le silence et l'horreur des ténèbres;
L'Erèbe les eût pris pour ses coursiers funèbres,
S'ils pouvaient au servage incliner leur fierté.
Ils prennent en songeant les nobles attitudes
Des grands sphinx allongés au fond des solitudes,
Qui semblent s'endormir dans un rêve sans fin;
Leurs reins féconds sont pleins d'étincelles magiques,
Et des parcelles d'or, ainsi qu'un sable fin,
Etoilent vaguement leurs prunelles mystiques.
— Charles Baudelaire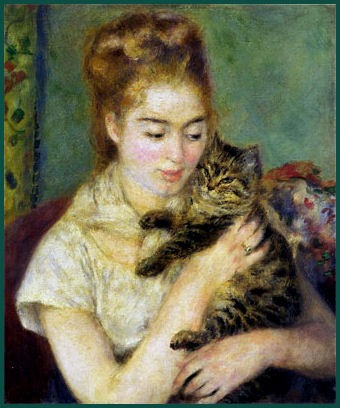 The Cats
Ardent lovers and austere savants
Grow fond, as they get on in riper years
Of gentle, sinewy cats, prides of the house,
Like them they fear a chill and love repose.
Votaries of enlightenment and pleasure
They seek out silence and the dread of night;
Hades would harness them to his cortege,
If he could bend their pride beneath his yoke.
Drowsing, they assume the highborn bearing
Of the great sphinx outstretched in solitude.
Who seems to slumber in an endless dream;
Their fecund loins are full of necromantic fire,
And golden spangles, fine as sand,
Gleam faintly in their enigmatic eyes.
—translation by Jon McKenney
The picture above is Checkuser Is Not for Fishing from E.B. & E.C. Kellogg.  Art acknowledgments for the poem video can be found in Merci: Poetic Images.
Accompanying the poem here are a Renaissance woman with cat by Francesco d'Ubertino Verdi, called Bachiacca.  Bottom photo is by Pierre-Auguste Renoir.  Banner images are by John White Alexander, Lilla Cabot Perry, and Dmitry Kardovsky.