The hardback copy of FLOATS THE DARK SHADOW goes to Sharon Latham. Her name was chosen by Emily of the Flying Bronte Sisters, who picked her paper ball up in her teeth, then batted it around the table. The clear winner!
Thank you all the visitors for leaving a comment and hopping through the blogs.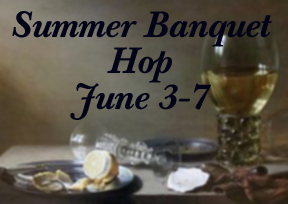 Join the HISTORICAL NOVEL SOCIETY feast. I'm posting two special French dishes for you to savor. Later this month I'll be listing other artist inspired dishes. Next week, Pear and Fennel Soup.
Plus, there are thirty other members of the HNS offering you special recipes and giveaways. Their links are listed at the end of the post.
Giveaway of ~ FLOATS THE DARK SHADOW ~ Leave a comment below to join in the drawing for a signed hardback copy of my multiple award-winning mystery set in Belle Époque Paris. Dark and decadent! Recipient will be chosen on June 10th. Book will be mailed by June 21st. If the winner does not respond after a three attempts to make contact, another winner will be picked by one of my eager cats.
A MEAL IN HONOR OF MONET:
In 1893, Claude Monet moved to the charming rural town of Giverny in Normandy, where he was to spend much of the last decades of his life. He planned his garden to give him endless inspiration, and worked there both with the soil and with his palette and paints. This is where his glorious lily pond is located, and every season brings new blooms to the vast gardens.
The building itself is lovely, soft pink with vivid green shutters, dripping with vines. Its windows look out on the gardens and across the road to the pond with its willow trees.
The interior is utterly delightful, especially the kitchen painted pale and deeper cobalt blue, with gorgeous blue and white tiles, and the beautiful yellow dining room. When I say blue and yellow, I mean the rooms are almost entirely that color. The photos rights are reserved, but you can Google them and you can see them in books, including the beautiful MONET'S TABLE, which is filled with photographs, old and new, with accounts of the Monets' life at Giverny, the making of the gardens and tending of the house, and with a wide variety of recipes from Monet's own kitchen. I went there in search of a recipe for the blog event.
The Monet family loved good food. Some of these recipes are simple, some strange and complex. I want to try the potato pie, and also the stuffed onions, maybe with a chicken filling. There is a recipe for an ultra-chocolate dessert that looks devastating.
For the Summer Blog hop, I'm doing an adaptation of the Monet family's Chicken Chasseur. My version has onion, sweet yellow pepper and goat cheese topping. Serve it with soup or salad if you like. I did a tasty seeded baguette and cheese to start. With the chicken, I served lovely thin French green beans with butter and lemon juice.
The Monet cookbook has a Cherry Clafoutis. Having tried many. I'll be including my own recipe, which has a great balance between the cake and custard texture that makes a clafoutis a unique dessert for all its simplicity.
Together these will make a wonderful country style dinner.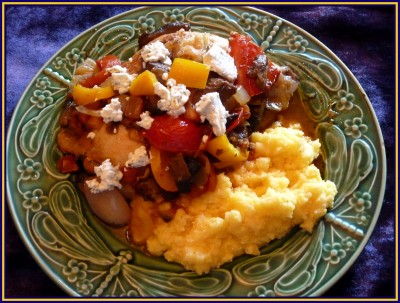 MONET CHICKEN:
4+ Tablespoons unsalted butter
4+ Tablespoons olive oil
4 chicken breasts*
1 large onion, chopped
4 cloves garlic, minced
4 cups mushrooms, thinly sliced
1 cup dry white wine
2 cups tomatoes, seeded and chopped
2 tablespoons tomato paste
2 sprigs fresh tarragon
1 cup broth
1 teaspoon Herbs de Provence (optional)
Salt and pepper to taste
1 cup yellow bell pepper, chopped
1 cup soft goat cheese, crumbled
Parsley garnish if desired
Melt the butter and oil in a large skillet with a lid. Saute the chicken breasts until lightly browned. Remove and reserve them, saving any juices.
Add more butter to the skillet if needed. Saute onions and garlic. Reserve.
Saute the mushrooms until tender. Add the wine and the chopped tomatoes and cook for approximately 10 minutes, until soft. Add the tomato paste and the herbs. Cook uncovered 10 minutes to reduce the liquid. Add the broth and simmer for 10 minutes more.
Return the chicken to the skillet. Cover and simmer for forty five minutes. Add the chopped yellow sweet peppers for added contrast and cook 15 minutes. Arrange the chicken on a platter and keep warm. If needed, reduce the sauce by boiling uncovered for 10 minutes. Pour it over the chicken. Sprinkle with the crumbled goat cheese. Serve with polenta, rice or potatoes. I used polenta both because I love the flavor and for the golden color. Add some parsley garnish if you'd like.
*The original recipe called for 1 cut up chicken. For cooking consistency, I decided on 4 breasts, bone-in, with skin. The next time I made it with 4 complete legs (thigh and drumstick).
CREAMY CHERRY CLAFOUTIS:
Clafoutis is very homey, and can be made just with milk, or with half and half. I'd gotten what I thought was the perfect moist, chewy texture using a mix of the two. I created this newer version when I didn't have enough of either, but did have some cream on hand. It was the tastiest of all, no surprise. Perfect for the Banquet version. I haven't since tried one of the versions with more liquid, but with cream they probably wouldn't be too thin, which was my complaint about the milkier ones. There are many styles out there for you to try.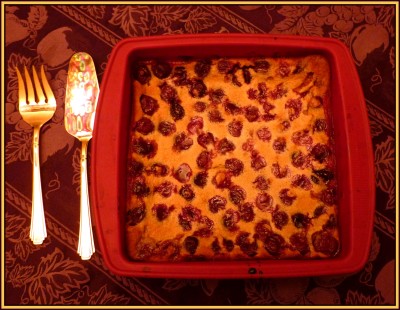 1 teaspoon butter
3-4 cups dark cherries, preferably pitted
3 large eggs
1/2 cup granulated sugar
1 tablespoon vanilla extract
1/4 teaspoon almond extract (optional)
1/2 cup all-purpose flour
1 1/4 cup heavy cream
Optional garnish: confectioners' sugar, ice cream or cream (poured or whipped)
Preparation:
Preheat an oven to 350F. Butter a 9-inch by 9-inch square baking dish or a 9-inch deep-dish pie round with the softened butter.
Pit the cherries and arrange them in the baking dish. The French like to leave the pits in the cherries, saying it adds a subtle almond flavor. I prefer the way the cherries absorb the moisture if they are pitted.
In a large bowl, beat the eggs till light and lemon colored, add the vanilla and almond flavorings (almond is optional, but very nice with cherry) Whisk them together with the sugar, then add the flour and beat till smooth. Add the cream and blend. Pour the batter over the cherries and bake for 55 – 60 minutes, until a knife inserted in the center comes out clean. When I made it with 3 cups of cherries, I liked it baked for an hour so the texture was more cake like. With 4 cups of cherries, I preferred the creamier texture of a shorter bake time.
Serve the clafoutis warm, if possible. Confectioner's sugar sprinkled on top is pretty, but I prefer less sweetness and would top the clafoutis with cream or whipped cream instead. This cherry clafoutis recipe makes approximately 8 servings.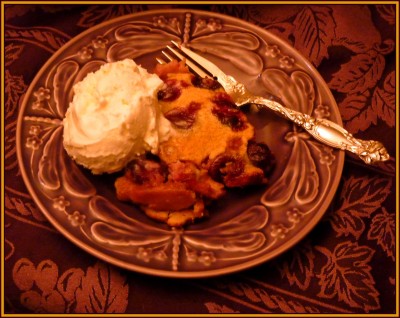 Clafoutis is a very adaptable recipe. Cherry is traditional, but many other fruits work well. My favorite alternative is to use 2 – 3 cups of blueberries and 1 cup of raspberries instead of the cherries.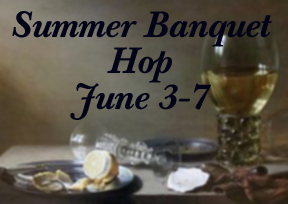 BLOG HOP PARTICIPANTS: