In the sequel to FLOATS THE DARK SHADOW, my artist heroine has a night on the town and eats a fabulous after theatre supper at one of my favorite restaurants in Paris.
I've decided to do an approximation of her meal at the Brasserie Julien here on my blog.
The interior of the restaurant is gorgeous, with pale golden wood, stained glass ceiling in a multitude of greens, and Art Nouveau nymphs adorning the walls.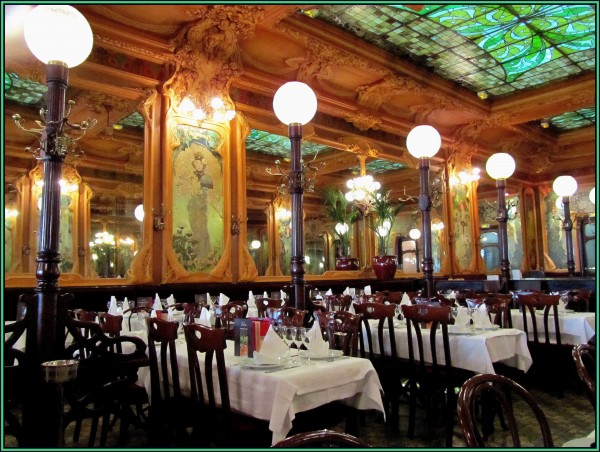 This lovely soup is my own creation, but seems très Français.
It's deliciously mellow, faintly sweet, but with a pleasant tang.
Pear Fennel Soup 
1/4 cup butter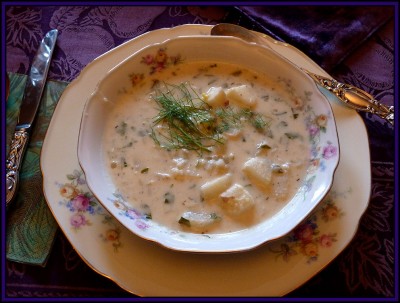 1 cup finely chopped onion
2 tablespoons minced shallots
1 cup finely chopped fennel root
1/2 teaspoon nutmeg
1/2 teaspoon cardamom
2 cups cubed potatoes
3 cups water or chicken stock
1 teaspoon crumbled Herbs de Provence or tarragon
2 cups cubed pears
1 cup watercress, chopped
1 cup heavy cream
1/2 cup Riesling or other white wine
Melt the butter in a soup pan, and sauté' the onion, shallots, fennel in it, until the onion is soft and transparent.  Add the potatoes and the chicken stock and bring to a boil.  Crumble in Herbs de Provence or tarragon, or add a bay leaf.  Fresh tarragon would be lovely if available.  Simmer for 15-20 minutes, until the potatoes are soft enough to mash slightly to thicken the soup.  Add the pears and the watercress and simmer for 5-10 minutes more, until the pears are tender but firm enough to add texture.  Add the white wine and the cream and bring the soup to just below the boiling point.  Ladle the soup into bowls and garnish as you please.  Serves 4-6.