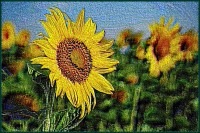 The pages here will celebrate themes specific to Montmarte, but will also explore places and events relevant to my heroine's world within it and outside of it, even as Michel's Paris extends up the hillside.

Le Butte Montmartre is the highest point of Paris, and has been the center of activities sacred and profane for centuries. The Druids worshipped here. After them, the Romans built two temples, one to Mercury, and one to Mars. Most believe this last temple gave the butte its name, though some think its true name is the Mountain of Martyrs. The early Christians worshipped here. In the 3rd century, St. Denis was beheaded on the pinnacle, then picked up his severed head, washed it in a fountain, and carried it to the site of his future church on the plain below.

A Benedictine convent flourished here in the 12
th
century and in the 17
th
a Priory was established in honor of St. Denis' martyrdom. But those buildings were sold off and demolished in the upheaval of the French Revolution.
Other battles were fought here, both before and after that most famous struggle. In 1814 the Russians stationed troops here. The fellow in this illustration seems welcome enough, but a grim legend claims that one of the owners of the mill that would become Le Moulin de la Galette was killed and strung up on the windmill's blades after attempting to defend it against the Cossacks.

More palatably, their demands to be fed quickly – Bistro! – created the fast food restaurants of the era. They would have eaten at La Mère Catherine, among other cafes on the butte.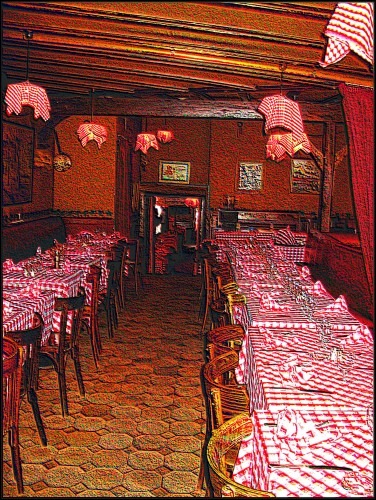 Even before them, Danton, hero of the Revolution, supped here when he penned the words, "Eat, drink, and be merry, for tomorrow you may die."

Most importantly, the Commune was born here in 1871. It lived its brief life and died in bloodshed in amid the tombstones of Père Lachaise Cemetery and on the heights of the butte Montmartre.
The Montmartoise were Parisians by then. The Butte Montmartre was annexed to Paris' 18
th
arrondissment in 1860. But bucolic Montmartre held itself apart from the more urban environment below, keeping its politically and artistically iconoclastic nature for decades after. Even today, despite the swarms of tourists that gather around Sacre Coeur and the artists' enclave of the Place de Terte, the side streets of Montmartre feel a world apart from the rush of the city below.
In Vincent Van Gogh's paintings among others, Montmartre has the look of a country town. There were still many windmills – moulins – their blades turning until the mid nineteenth century, when even the denizens of Montmartre became nostalgic about them.
But by that time, industry, with its noise and noxious fumes, was invading the towns on the far side of the butte.